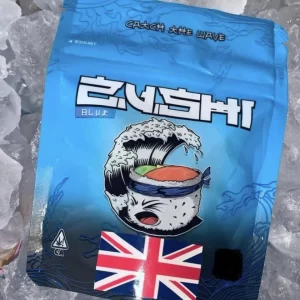 Blue Zushi is a hybrid cannabis strain made by crossing Zkittlez and Kush Mints. The effects of Blue Zushi are believed to be euphoric and relaxing. Medical marijuana patients
Braed Gang Backs brings a wild selection of highly sought-after Exotic Cannabis Strains for you. Get your desired exotic strain delivered at your preferred address through us and relax your body and mind with optimum convenience. Go through our selection to choose and buy your best suitable weed online at the most reasonable price points.
Buy The Most Exotic Cannabis Strains Online at Braed Gang Backs
There are more than 700 Exotic Cannabis Strains, and many of them grow throughout the year. True weed lovers are pretty selective in their taste and look for exotic strains, and exotics are the most preferred choice when you wish to smoke some sensational stuff for mood-altering. These strains are different from other popular strains available in the market concerning smell, taste, and color.
 Bread Gang Pack Exclusive Array of Exotic Cannabis Strains Online
However, some weed lovers prefer specific strains due to boosted high and euphoria they produce; on the other hand, some users seek exotic strains due to the unique look of the bud, its plant, and seed. Here are some most exotic cannabis strains available at Bread Gang Pack online collection.
Biscotti
Biscotti is a hybrid marijuana strain that results from a cross between Gelato 25 and Sour Florida OG. It can leave the consumer relaxed, creative, and content from head to toe, making it a widespread weed strain. The strain has this name as it tastes like cookies with a hint of diesel. Due to its 21% THC level, many medical patients use this one of the most exotic cannabis strains to get rid of anxiety, depression, and stress.
HoneyMoon ISANE
Originated from California, United States, Honeymoon INSANE is a hybrid cannabis strain known for its unique fruity, spicy yet earthy taste. This one of the exotic cannabis strains can increase appetite and creativity. Moreover, it makes a consumer feel matchless euphoria. Some people also consume it to get relief from severe pain.
Gushers Doja
Gushers Doja has its name because of its sweet and fruity candy-like taste. This hybrid strain is gained by crossing Gelato 41 and Triangle Kush. Its aroma includes a slight herbal undertone, and its regular consumers have reported a substantial euphoric effect. These exotic cannabis strains are grown indoor, outdoor and in greenhouses. You can avail them worldwide with optimum ease through Bread Gang Pack online store.
Yellow Zushi
In a short time, Yellow Zushi Strain has gained immense popularity among weed lovers due to its high THC level, which is around 27%. It is a combination of top exotic cannabis strains. Its users testified it to have a very loud high which leads to hours of sleep; therefore, it is recommended to use it at night and avoid smoking it during work that needs attentiveness.
Zoy
Zoy is a highly potent hybrid strain prepared using Sativa and Indica and contains a delicious aroma of fruity ice cream. As per reviewers, it soothes the body and mind; on the other hand, it enhances creativity and focus. Its THC level varies from cultivation and curing techniques.
Experience The Ease of Availing Weed Online At Bread Gang Pack
The assortment of Exotic Cannabis Strains at Bread Gang Pack includes Frosted Cakes Jungleboys, Gelonade Doja, Honey Moon Insane, Mochi Doja, Wasabi Zushi, Zkittlez Gelato and much more. If you wish to buy one of these weed strains online, browse Bread Gang Pack online store to choose and place an order for your favourite weed online to get it delivered to your desired address. Braed Gang Backs is a licensed online weed store containing an unmatched premium weed collection online.